Depending on the variant, one of the following four CPUs manufactured in the 22nm process can be configured in the PM-BT single board computer: Atom E3845 (1.91 GHz quad core), Atom E3825 (1.33 GHz quad core), Intel Celeron J1900 (2 GHz Quad Core) (or Celeron N2807 (1.58 GHz dual core).) The graphics output is taken from the processor integrated Intel HD Graphics chip (7th generation), it supports OpenGL4.2 and OpenCL 1.2 The graphics chip and the processor can up to 8GB of RAM. A RAM slot supports DDR3L SO-DIMM modules with clock rates of 1333 or 1066. For the display of operating elements, data or the operating system a maximum of two monitors can be connected, once per VGA and once per 18/24-bit LVDS. The VGA output supports a maximum resolution of 2560x1600 at 60HZ, and an 8-pin digital I/O has been added to integrate with existing environments.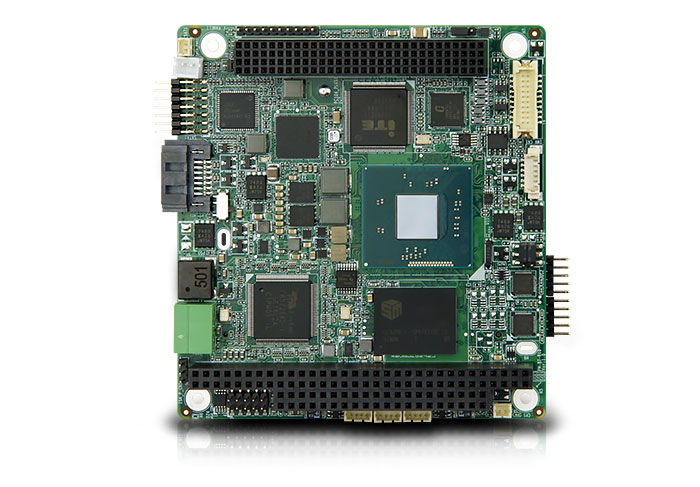 Ordering Information
Please contact our sales team
Email: sales@ipc2u.com
or directly
By phone: +49 511 807 259-0
Related products can be found at:
PC/104
Ordering Information
Please contact our sales team email: sales@ipc2u.com or directly by phone: +49 511 807 259-0
PM-BT
PC/104-Plus SBC
Intel Celeron J1900 SoC
DDR3L, VGA, LVDS, GbE
USB2.0, SATA 3Gb/s, RS-232/422/485
5V DC input, RoHS
An Intel I210 Gigabit Ethernet Controller provides access to fast cable-based networks. In addition to available I/O ports, a SATA II, three USB 2.0 and two RS-232/422/485 ports can be used internally. Optionally, an SSD can be installed on request. For expanding the internal and external connectivity, a full-size PCIe mini slot can be used, as well as a PC/104-Plus (ISA + PCI) port. The board can be operated at ambient temperatures between -20°C and 60°C, if an Atom E38xx processor can be used with the operating temperature between -40°C and + 85°C. The narrow dimensions of 96 x 90 mm ensure a small footprint, ideal for space-critical applications. The device is shipped with the following contents: 1x SBC, 1x COM cable, 1x heat sink, 1x USB, LAN cable and a VGA cable.